Swift XML Converter Command Line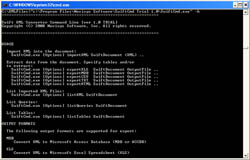 Using Swift XML Converter Command Line
(Click for a larger view.)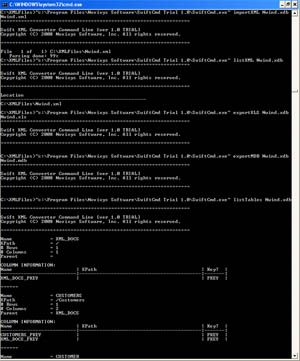 A typical session.
(Click for a larger view.)


Swift XML Converter Command Line allows you to automate many of the tasks that are possible using the GUI version of Swift XML Converter, including extracting data from XML files into various formats including Microsoft Excel (XLS), Access (MDB or ACCDB), CSV, Text & HTML.
Features
What can you do with Swift XML Converter Command Line?
Import XML Files: Import one or more XML files into a Swift document (XDB file). Once the data is imported, you can run queries, export data and much more.
Execute Queries: Queries that have been pre-defined in the Swift document can be executed and the data extracted.
Export data to any supported format: You can extract table data or query data to Microsoft Excel (XLS), Microsoft Access (MDB or ACCDB), CSV, plain text or HTML.
Schedule automatic imports and exports: Use the Windows Scheduler to schedule XML import jobs. Or create a nightly job to extract the data for consumption by other applications.
Click here for detailed help.
Looking for an easy-to-use GUI to simplify XML data conversion? Try Swift XML Converter today!
Output Compatibility
Output created by the Swift XML Converter is compatible with:
Output Type
Intended for
Versions
XLS
Microsoft Excel
Microsoft Excel 97
Microsoft Excel 2000
Microsoft Excel 2002
Microsoft Excel 2003
Microsoft Excel 2007

MDB
Microsoft Access
Microsoft Access 97
Microsoft Access 2000
Microsoft Access 2002
Microsoft Access 2003
Microsoft Access 2007

ACCDB
Microsoft Access
Microsoft Access 2007

CSV
Database
Compatible with most database loaders.
HTML
Web
Compatible with all Web Browsers.
TEXT
General
Notepad, Wordpad, etc.
System Requirements
Hardware
Pentinum II and later.
Operating System
Windows 2000
Windows XP
Windows Server 2003.
Windows Vista

Software
Microsoft Data Access Components (MDAC) version 2.5 and later.
Note: All Windows version starting with Windows 2000 include MDAC 2.5 or later.
Installation
Download the Setup file and save it to a folder.
Once the download completes, click the saved file to run it.
Follow the on-screen instructions to complete the installation.
By default, the command line interface (SwiftCmd.exe) is installed into C:\Program Files\Novixys Software\SwiftCmd Trial <Version>.
Safe & Secure
We warrant that all our products including the Swift XML Converter Command Line is free from Adware, Spyware, Malware, Viruses, Key Loggers or Trojans.
We sign all our executables. For your safety, please ensure that you install ONLY executable setup files signed by Novixys Software, Inc. (See picture for illustration.)


Internet Explorer warning on Windows XP