This screen appears only in the trial version of Exult. The purpose of this screen is to warn you of the trial version limitations and to give you an opportunity to purchase Exult for SQL Server from the application itself.
You can purchase Exult for SQL Server by clicking on the Click to purchase Exult now link in this page. You will be directed to a secure page for placing your order.
Once your order has been processed successfully, you will receive an email with a download link to download the full version and a license key for the software.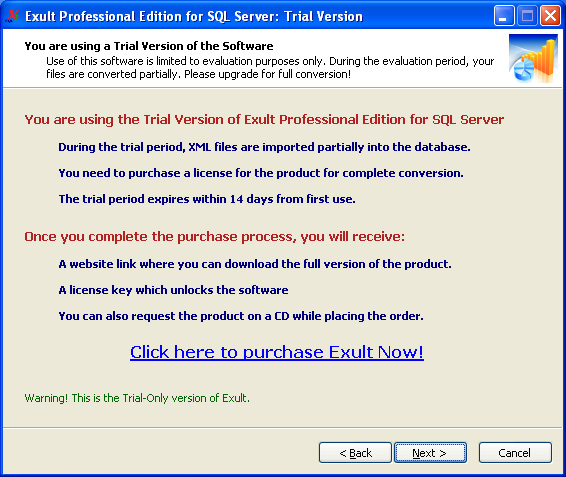 The trial version of Exult for SQL Server has the following limitations:
When data is extracted, Exult replaces some extracted values with <<Trial Version>>. This is not text that was found in your XML file(s), but was added by Exult. The purpose of the trial version is to let you evaluate whether the output created by Exult fulfils your needs. And, in our opinion, inserting the <<Trial Version>> message in the output does not detract you from this evaluation.
Time Limited: Works for 14 days only.